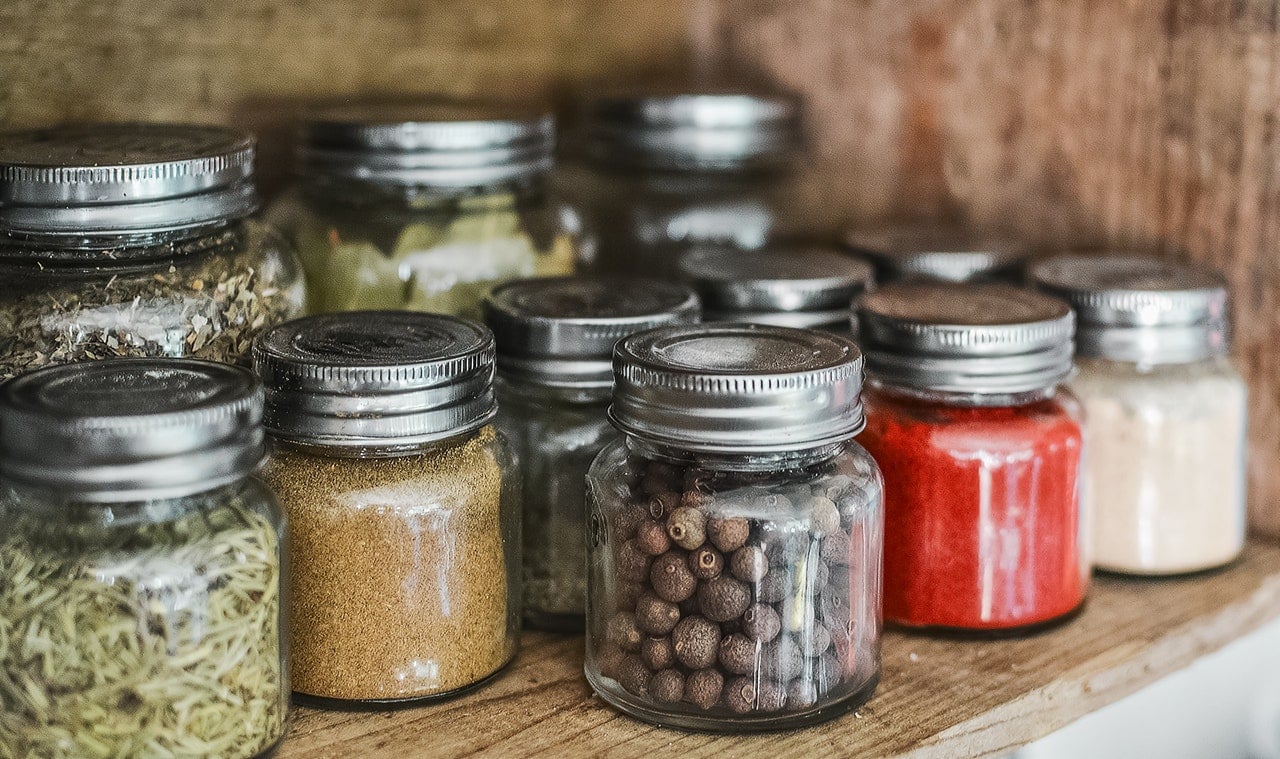 By Louise Clover / May 17th, 2020
Estimated Read Time: 8 Minutes
Hello all, it's your favorite self-quarantined witch and here's hoping you've had a blast with the previous article. If you haven't already checked it out, head on over right after this article to find a list of productive activities to occupy yourself during this turbulent time. On that note, if you're interested in creating a kitchen altar while learning a few tips and tricks about infusing magic into your cooking then you're in for a virtual treat. We also have some fun recipes for you to try while preparing for the summer solstice that is fast approaching.
Kitchen Altars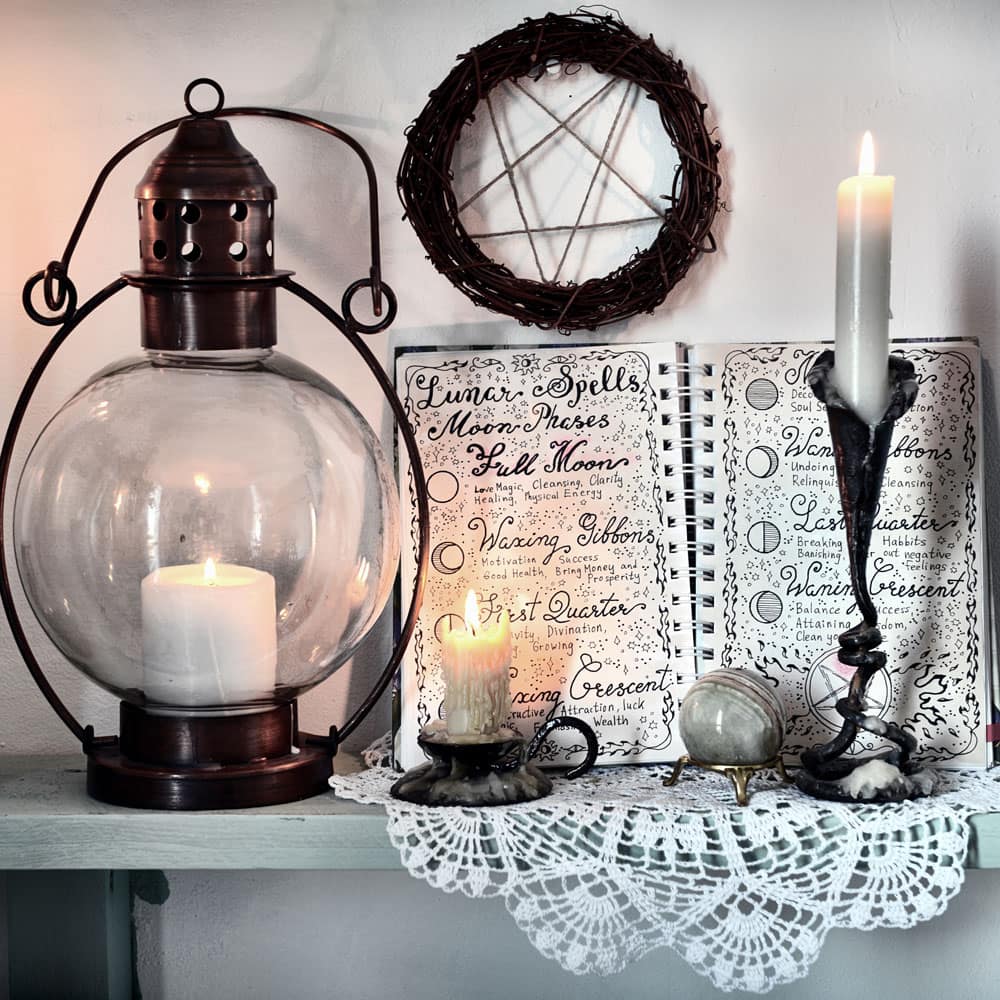 Throughout history the humble kitchen has always been thought of as the 'heart' of the home. It's where the hearth (fireplace) is typically located so it would naturally be the warmest section of the house and of course it's also the place where we prepare food to provide sustenance for the family. So if you spend a lot of time in your kitchen, you might want to consider building an altar right there. The great thing about kitchen altars is they don't have to be anything fancy or extensive, but of course the most important foundation to any altar is a smooth, sturdy surface. In your kitchen this might be the corner of the counter that nobody uses or you could even install floating shelves to hold your items.
A must-have for a kitchen altar in particular is a kitchen witch doll. With origins from Russia and Eastern Europe, this human-like doll dressed often in typical witch garb made out of mixed material (typically cotton or polyester fabrics) is technically considered a 'poppet'. The difference between a poppet and a doll is that poppets are used specifically for spells and other magical duties.
So what does a kitchen witch doll do? Well aside from concentrating positive energy in your kitchen, these poppets are known for being the 'guardians' of your kitchen by watching over it- from preventing your cooking from boiling over, to burning bread, to making sure your food doesn't spoil quickly these witches can either be hung on a hook by your sink or stove, or sit on your altar.
You may also place candles on your kitchen altar. Remember colors play an important role, in this case you might want green, orange or grey candles for rejuvenation (to gain from your food), energy building and healing respectively. A great and cost-effective way of saving on candles is to use birthday candles. Not only do they have a shorter burning time, which can be vital for certain spells as they require an entire candle to be burned, it also comes in a variety of colors that would be easier to choose and match your intentions with.
Your grimoire with different recipes or even cooking books is also another great item to go on your altar. When you aren't using them, placing them in or around the sacred space will allow them to soak up the energy manifested there thanks to your intentions and careful planning.
Kitchen utensils that you often use are also great for your altar. A great tip for concentrating your intentions while cooking would be to carve or paint your own sigil right onto the utensil and leave it to charge on the altar.
Of course these are just some of the items that you can gather for it. There's no one true guideline so if you feel inspired or called to add offerings of spices or herbs in wooden bowls, go ahead and leave some out. Salt and thyme are just some of the herbs that make great offerings mostly because of salt's versatility in spells (keep in mind specific salts can be used to create more accurate spells, although table salt is certainly the easiest option and typically used for protection and cleansing rituals) while thyme attracts love and good fortune. To learn more about herbs take our free video course Basic Signs and Symbols. Just sign up for a Wicca Academy account to become a student and gain access.
Helpful Cooking Procedures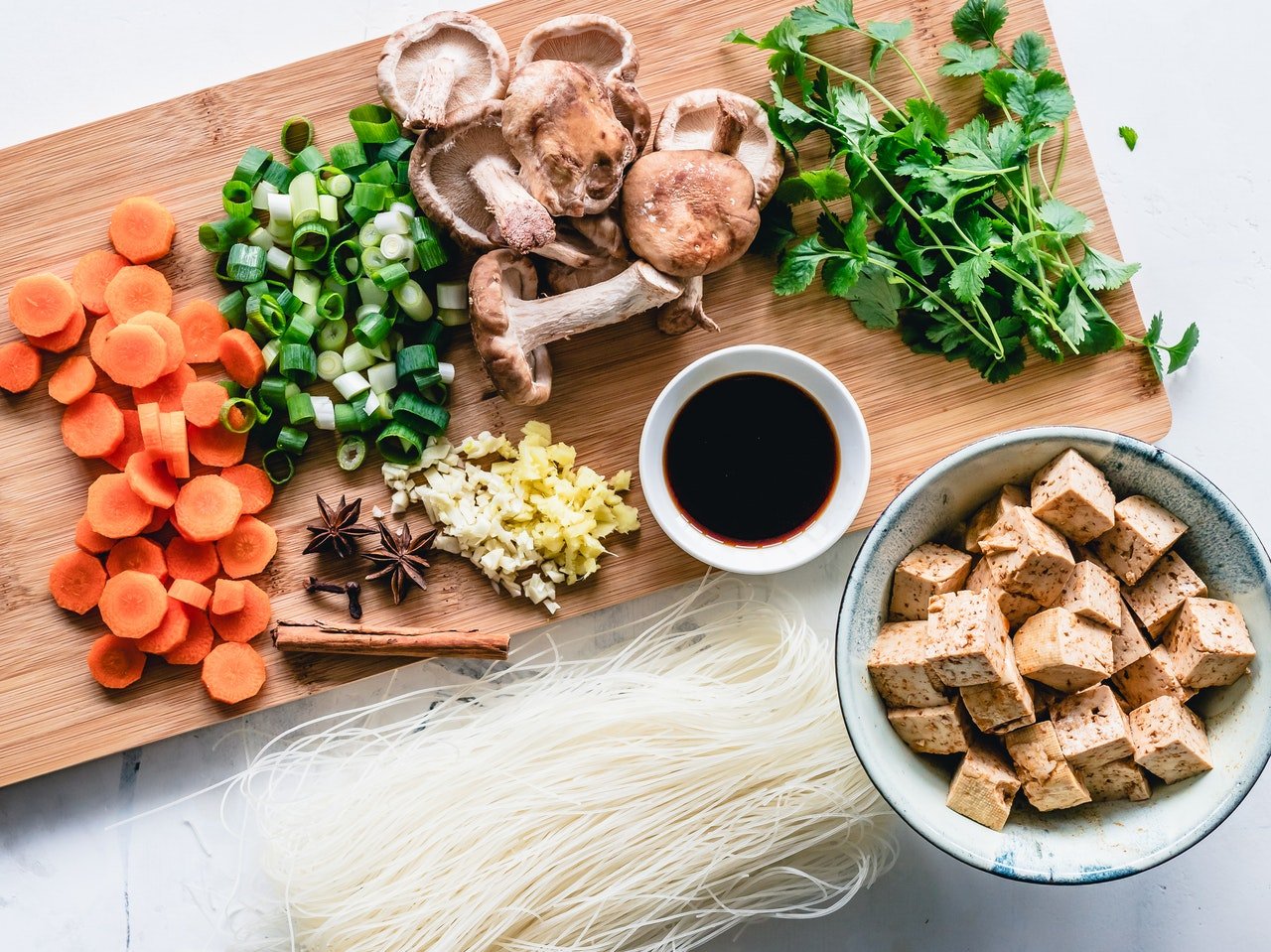 Although, having an altar isn't just the only way to draw in your magical energy. A simple way to always infuse magic into your food is by being extra mindful of the ingredients and their uses in the dish (example: cumin when used in cooking can promote protection while when used in tea, is meant to bring love), concentrating mostly on positive and calming affirmations. Energy is transferable and you wouldn't want to feed that negativity to your family or friends.
A reminder for when you are working on any citrus fruit that requires peeling, don't forget to save these peels for future spells since they work great for prosperity and healing. Lemons are actually quite versatile when it comes to their uses in spells; soaking peels in water can create a mixture to get rid of unwanted and negative energy attached to objects, whole lemons in fruits bowls helps to keep evil away from your home while adding a few lemon drops to your potion bottles will help with purification.
When baking try drawing personal sigils at the bottom of your crust or making them out of your decorations (buttercream, fondant, even sprinkles arranged distinctly). This process can also be repeated throughout your cooking by drawing the sigils with your utensil in sauces or as you are stirring the pot. If one's intent is to banish or keep negative energy away, stir in anticlockwise direction and clockwise to invoke your intent.
Don't forget to regularly cleanse your kitchen with sage, especially your stove which is akin to a modern-day hearth.
---
Want to learn more about familiars, spells, dreams, tarot, crystals, herbs, and much more?
Become a student of Wicca Academy today!
---
Kitchen Magick Before and After Cooking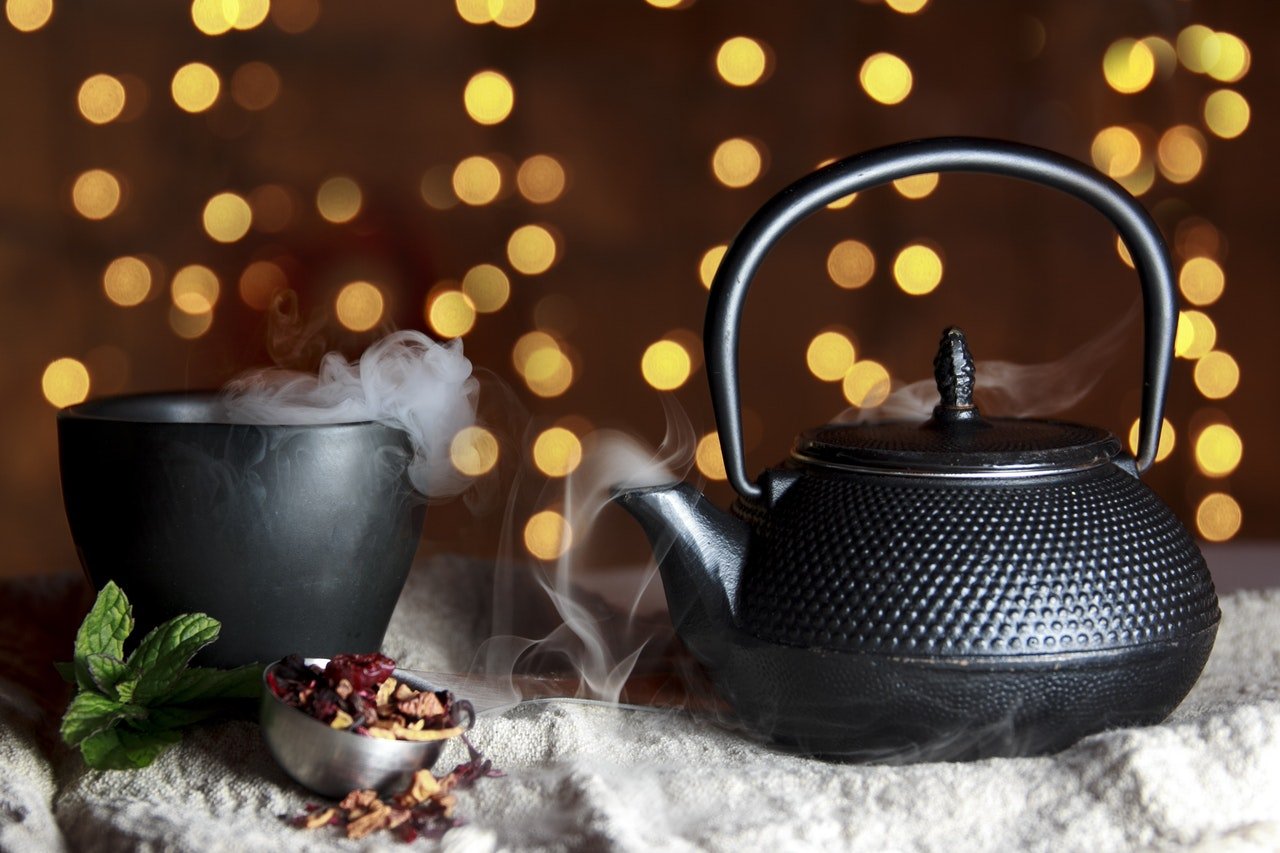 Kitchen magick however, doesn't end when the food is prepared.
Before eating make sure you are in the proper mindset to receive it, setting these intentions and attuning yourself to your spiritual guides and the act of creation will hopefully allow you to manifest your goals on a quicker, more accurate level. If by chance, you did not prepare the food yourself, don't let that stop yourself from saying a quick prayer and meditate a few seconds on what the ingredients could offer you.
Creating a ritual to do each day in the kitchen will not just help you attune and prepare yourself for the day but also increase magic's intensity in your kitchen. Two typical rituals that I participate in are tea brewing and coffee grounding. Both tea and coffee have strong magical attributes. Tea has of course been used for centuries for divinational purposes while promoting exact intent.
There are hundreds of recipes that you can look up using traditional herbs and spices or you may even create your own concoction through your intuition based on the affinity of certain herbs or spices to your goals. Coffee on the other hand is known as a modern-day spell booster (and considering its effects on us, did you expect anything less?) so add a little ground coffee to your spell bottles to speed up the process. Grinding coffee beans is also a great ritual to employ when you need to 'ground' yourself and if experience has taught me anything, nothing tastes better than a hot cup of fresh ground coffee to start the day. Interestingly enough, coffee is also known for its uses in banishing negative energy so if you happen to have extra beans, stick a candle with your carved sigils in the middle of a clear jar and fill coffee beans around it. Not only will you help manifest your intent but you'll also get to enjoy that lovely coffee aroma filter through your home, simultaneously banishing negative energy.
Most importantly don't rush. Kitchen magick is perhaps one of the easiest but certainly most slow-moving out of all since it's easy to just forget about setting your intent or even to be mindful of food in today's busy world. So perhaps being in self-quarantine will give us all the time to reflect on what the Universe has to offer us instead of just focusing on the negativity. It takes time to initiate change through this particular branch and it is often thought in Wicca that once something does not come to be in 7 days then it is best to just let it go. Perhaps the time wasn't right or perhaps it's a sign from the Universe but you have to trust the process. Eventually the results will become clear to you.
Fun Recipes
Summer Solstice Honey Cakes
With summer fast approaching this would be a great time to prepare your ingredients for summer solstice honey cakes. This can even be a fun activity to do with children while they're at home and getting antsy from staying indoors.
So why is honey so special?
For centuries honey has been considered one of the highest offerings one can make to the gods. From the sacred geometry contained in their honeycomb shapes that correlates with Wisdom, honey is thought to amplify the strengths of one's potions and spells. Honey is also constantly used during Esbats and Sabbats rituals. Oftentimes, these rituals could also go by the term 'Cake and Ale'.
Why honey cakes specifically?
Through Ancient Egypt and Greek, to traditional Eastern-European culture honey cakes are one of the oldest desserts made not just as offerings to gods or mischievous faeries at the ends of your garden but also as a treat that doesn't require a lot of additives.
The instructions and ingredients are quite simple. You can also choose to buy silicone honeycombs (although of course there is significance behind having the honeycomb shape) or make them in regular molds, whichever is easiest.
3 cups of all-purpose flour
¾ tablespoon baking powder
½ teaspoon baking soda
3/4 cups sugar
1 teaspoon salt
1/4 cup honey
2 sticks butter (softened)
4 eggs
1 cup milk
1 tablespoon vanilla extract
Enough oil or cooking spray to grease your mold
Step 1: Preheat your oven to 335F.
Step 2: Combine dry ingredients together and set aside.
Step 3: Cream butter and sugar together, then slowly add eggs into the mixture one at a time. Add in honey and slowly beat vanilla extract in.
Step 4: Slowly combine dry ingredients to the mixture by beating it in. Pour the milk in slowly and beat until the mixture is smooth again. Alternate between adding the dry ingredients and milk.
Step 5: Pour batter into mold and then place in the oven from anywhere between 40 minutes to 50 minutes, depending on the size of your mold. Do keep an eye on it since honey crystallizes much faster than sugar and your cakes might bake faster if you are using a smaller mold.
Step 6: Cool for at least 2 hours before attempting to remove the cake from your mold. The easiest way to do this is to get some parchment paper, place it on a flat surface and flip your mold onto the paper, cake-side down. Slowly ease the mold up from the cake.
(Recipe taken from MoodyMoons)
Fried Summer Solstice Honey Cakes
For those that are interested in creating fried honey cakes, a faster version of the traditional honey cake with a little twist then you might enjoy the recipe below.
½ cup sweet white wine
2 tablespoons of sugar
1 egg
⅔ cups of flour
⅛ teaspoon of cinnamon
⅛ teaspoon of salt
1 cup of honey
⅛ teaspoon of nutmeg
Enough oil for frying
Step 1: Beat the wine and egg together in a medium sized bowl.
Step 2: Combine flour, cinnamon and salt together in a separate bowl before slowly stirring into the egg and wine mixture. Beat until smooth then let stand for a few minutes.
Step 3: Combine honey and nutmeg together.
Step 4: Heat ½ inch of oil in frying pan until hot (but isn't smoking, then you need to wait a few minutes until the oil cools down again)
Step 5: Using a tablespoon, measure out batter and drop individual cakes into the frying pan. Fry until golden brown.
Step 6: Drain on paper towels then dip in honey and nutmeg mixture before serving.
Yields: 1 ½ dozen
That's all for today's article folks, stay tuned for more interesting articles coming soon.
Check out our other articles:
Sigils for Newcomers
Candle Color Meanings
Jar Spells Made Simple
Get to Know Your Familiar
Moon Phases and Simple Rituals
See All Articles
Love this article? Share the magick with your friends and loved ones!